Our New Central Branch Located on Wyndham street number 77, Carfield Commercial Building has opened on the 15th August.
中環店於2013年8月15日開始營業
Booking: 2701 3398
Address: RoomB, 18/F, Carfield Commercial Building, 77Wyndham Street, Central
中環雲咸街77號,嘉兆商業大廈18樓B

路缐1:中環D2出口,皇后大道中100號乘半山扶手電梯致雲咸街(荷李活道古董街出口)~10分鐘
路線2:石板街上致雲咸街左轉~5分鐘

facebook: https://www.facebook.com/wyndham.loveurnail
page:https://www.facebook.com/loveurnailw


Central Shop
中環店
posted on 02/9/2013, 08:36am
promotion: Public Offer (all customers)
date: from 1/9/2013 till further announcement
Venue: Central Branch : 18B, Wyndham street number 77, Carfield Commercial Building,Central, HK

Status: AVAILABLE NOW!!!!! please call to make a reservation

Reservation & Enquiries: 2701 3398 (12:00-9:00)

##Cash Only for this promotion只接受現金##please like and share our page 1st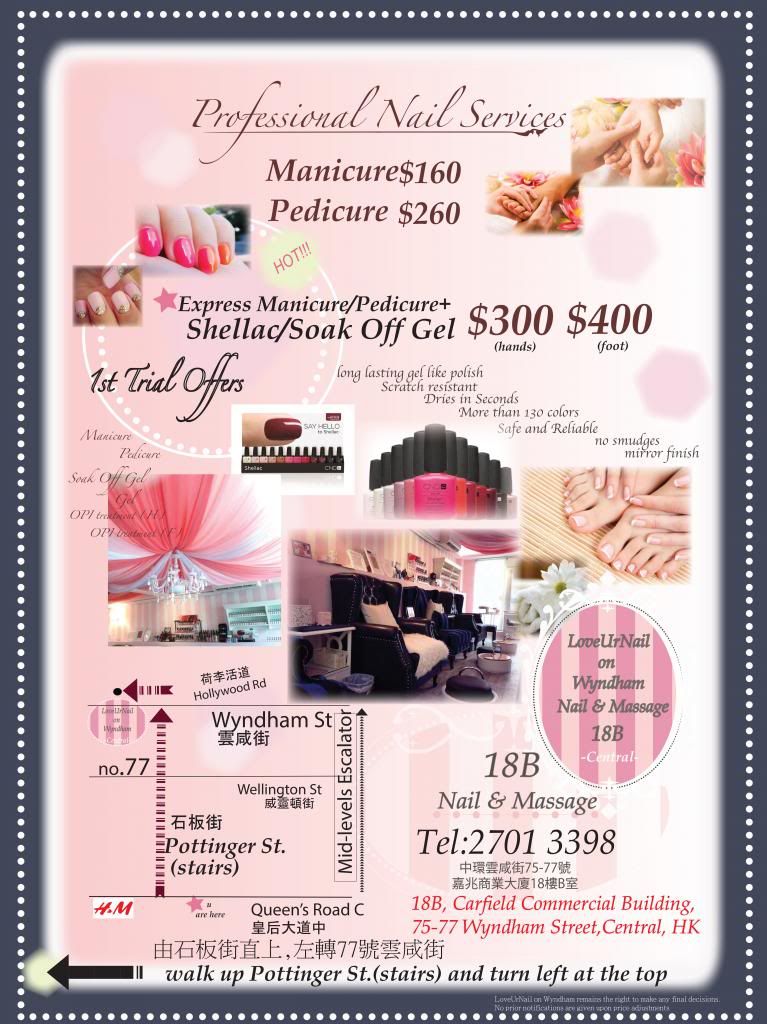 Facebook for Central Shop中環店 :


https://www.facebook.com/wyndham.loveurnail

https://www.facebook.com/loveurnailw


click in and "like" our CENTRAL page for enjoying special discounts and promotions

-----------------------------------------------------------------------------------------------------------------------------------------------------------------------

LoveUrNail Mongkok Branch
旺角店-
address:Room4, 16/F, Righteous Centre,585Nathan Road, Mongkok, Kowloon
旺角彌敦道585號富時中心16樓04室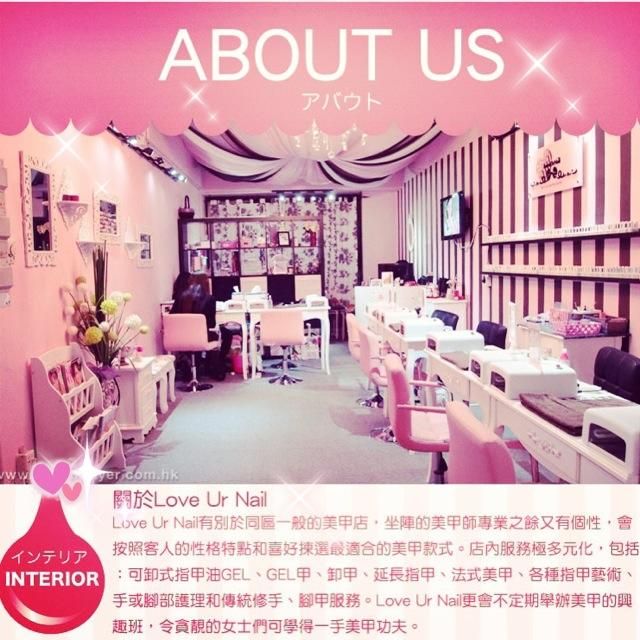 Facebook專頁-讚好! like us


https://www.facebook.com/loveurnailhk

The Pricing and services of Mongkok Branch and Central Branch will be different. Customers can call and ask for more information about our services and respective pricing before visiting.
Existing packages bought in Mongkok Shop cannot be transferred or used at our Central branch.




由於以下之不同之處:
•服務,部驟
•設施,環境
•產品
•地點
我們致力提升各方面質素
*須注意中環店及旺角店的收費不同。*不設議價*
如有任何查詢,請致電:
27013398(中環)
3749 9760(旺角)

本公司loveurnail保留所有最終決定權

*所有旺角店出售套票不可轉讓,退款,只適用於旺角店。中環店暫不出售套票

DUE TO DIFFERENCES IN
• Services
• Products
• Facilities
• Location
There will be price differences between central branch and Mongkok branch. Please contact us
@37499760(Mongkok branch) or @27013398(Central branch) for any enquiry. Prices are non-negotiable.